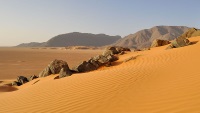 Algeria Travel Guide
With the Mediterranean caressing its rugged coastline, Algeria promises an escape from all things. Sun-touched cities tempt visitors in. Snow-capped mountains hint at greater mysteries that only first-hand experience can reveal. The journey begins in the enchanting north and leads on to many treasures.
The capital, Algiers, projects its turbulent history through its architecture. French-built boulevards come together with socialist-era monuments and elegant apartments, weaving a textured tale of destruction and rebirth. The Casbah citadel watches from its hillside, as it's done for centuries. All told, culture, sapphire seas, and green ravines draw visitors to the Bay of Algiers, parting the sheer veil over Algeria's charm.
Those who venture on discover more. Laid-back Tlemcen provides a change of pace from the capital. Surrounded by olive trees and vineyards, it's a wonderful destination for leather and textile shopping. Hikers can explore the lunar landscapes of the northwestern mountain ranges. Timgad, Djemila and other beautifully preserved Roman towns offer a glimpse into the area's past. Farther south, the Saharan region extends over a sea of sand to mountains that are as beautiful as they are unyielding. Their caverns contain rock paintings that date back over 10, 000 years.
Unlike neighbouring Morocco, Algeria has yet to become an established tourist destination. But, given its natural beauty, history and rich culture, its standing may change. Much depends on whether some fascinating parts of the country become safer. At present, visitors should avoid travelling to rural areas within 31 miles (50km) of the border with Tunisia due to terrorist and criminal activities. The same is true for regions within 155 miles (250km) of the borders with Libya, Niger, Mali, and Mauritania. Also, terrorist and criminal groups operate in parts of the Sahara Desert. Travellers venturing there should travel by air rather than overland.
Travel Guide powered by Word Travels, copyright © 2019 Globe Media Ltd. By its very nature information in this travel guide is subject to change at short notice and travellers are urged to verify information on which they're relying with the relevant authorities. Neither Globe Media Ltd nor Village Travel Cheam can accept any responsibility for any loss or inconvenience to any person as a result of information contained above.