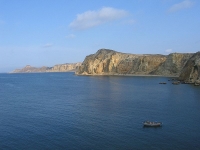 Angola Travel Guide
Situated in Central Africa, west of Zambia and north of Namibia, Angola is slowly realising its potential as a tourist hotspot, after decades of bloody civil war following independence from Portugal in 1975.
A stunning coastline strung with beautiful sandy beaches, a mountainous interior that gives way to deep gorges and tumbling waterfalls, and a number of national parks and wildlife reserves throughout, Angola offers a wide array of opportunities for eco-tourism to its visitors. Natural beauty aside, the country also boasts a rich traditional culture, culinary specialities and a people that are known for their hospitality and friendliness.
The picture is not entirely rosy, however, and the lack of infrastructure, the difficulties and dangers of overland transport, poor health services and crime are challenges travellers need to consider, particularly outside of the capital Luanda. But signs of economic recovery are evident, and the fact that Angola is rich in natural resources such as diamonds and gas, as well as being Africa's second largest oil exporter after Nigeria, brings hope of development for the not too distant future.
Travel Guide powered by Word Travels, copyright © 2019 Globe Media Ltd. By its very nature information in this travel guide is subject to change at short notice and travellers are urged to verify information on which they're relying with the relevant authorities. Neither Globe Media Ltd nor Village Travel Cheam can accept any responsibility for any loss or inconvenience to any person as a result of information contained above.