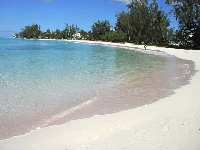 Barbados Travel Guide
Barbados, known as the 'pearl of the Caribbean', is the eastern-most Caribbean island, and is actually an enormous and ancient coral reef that was formed approximately one million years ago. It has been dubbed 'the real fantasy island', an appellation that points to its exotic resorts and glorious beaches. Enjoying 340 days of sunshine a year, numerous well-developed amenities, a throbbing nightlife and friendly inhabitants, it is one of the most popular holiday destinations in the Caribbean.
Barbados islanders, calling themselves 'Bajans', are West Indian by descent, although largely shaped by English customs and culture. These influences pervade much of the island, most evident in the Anglican stone churches (the island is divided into numerous parishes) and in the many cricket games played on the village greens. The 'Little England' legacy dates back to colonial days when the sugar industry reigned supreme. Barbados gained self-government in 1966, and now tourism, rather than sugar, is the mainstay of the local economy.
The island is a pear-shaped, 20-mile (32km) stretch of soft coral, which is permeated by water and over time has formed fascinating underground caverns. The coral reefs enveloping most of the island entice tourists to its picturesque shores for activities like snorkelling, scuba diving, and watersports.
Travel Guide powered by Word Travels, copyright © 2019 Globe Media Ltd. By its very nature information in this travel guide is subject to change at short notice and travellers are urged to verify information on which they're relying with the relevant authorities. Neither Globe Media Ltd nor Village Travel Cheam can accept any responsibility for any loss or inconvenience to any person as a result of information contained above.