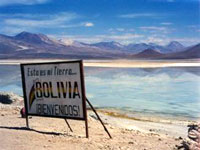 Bolivia Travel Guide
Known as the 'Tibet of the Americas', Bolivia is the highest and most remote country in South America. The landlocked destination includes the East Andes Mountain Range and the Altiplano Highland Plateau, where most of its people live.
Bolivia's history spans the ancient Aymara, who lived on Lake Titicaca, the Altiplano's Inca Empire and the Spanish conquest in the 16th century. Visitors can still see traces of these civilisations in the country's ruins, museums and colonial cities.
Culture lovers should note that Bolivia has one of the continent's most concentrated indigenous populations who, for the most part, have retained their traditional way of life. Visitors will encounter authentic houses, age-old agricultural methods and ancient weaving techniques. Haunting panpipe melodies ride the Altiplano's crisp mountain air, while livelier tunes fire up the warmer lowlands.
Thrill seekers will relish the country's dramatic geography. Explorers can track wildlife in the Amazonian Basin or drive the Salar de Uyuni's surreal landscape. They can also venture to the world's highest navigable lake, Titicaca, scramble through muddy shafts in the silver mines of Potosi and hike in the magnificent Andes.
Travel Guide powered by Word Travels, copyright © 2019 Globe Media Ltd. By its very nature information in this travel guide is subject to change at short notice and travellers are urged to verify information on which they're relying with the relevant authorities. Neither Globe Media Ltd nor Village Travel Cheam can accept any responsibility for any loss or inconvenience to any person as a result of information contained above.