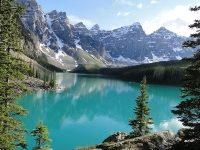 Canada Travel Guide
The second largest country in the world, Canada offers visitors a range of experiences as varied as the land itself. It provides something to suit the taste of every traveller: large cosmopolitan cities; frozen northern tundra and snowy mountain peaks; rugged coastlines; rich farmlands; and pioneer outposts.
Canada is bound to the west by the Pacific Ocean and Alaska, to the east by the Atlantic Ocean, to the north by the polar ice cap, and to the south by the United States of America. It's a country renowned for its natural beauty, making it a favourite destinations for lovers of the outdoors.
The cities have been carefully designed to preserve metropolitan green belts and parklands, ensuring that Canadians are never far from their natural heritage. The country has a French and British colonial history, reflected in its cuisine, culture, and customs. Canadian identity is mixed in with the legacy of the country's own aboriginal First Nations history.
In the south, the Rocky Mountains separate Canada's two main tourist provinces of British Columbia and Alberta. The mountains abound with winter sports resorts, with the most popular venues for outdoor pursuits being the country's huge national parks. There are more than 41 national parks in Canada, with the Wood Buffalo National Park in Alberta being larger than Switzerland. Canadian national parks are unique in that they have cities and towns within the protected areas, providing comfortable bases for exploring the natural and manmade attractions.
Travel Guide powered by Word Travels, copyright © 2019 Globe Media Ltd. By its very nature information in this travel guide is subject to change at short notice and travellers are urged to verify information on which they're relying with the relevant authorities. Neither Globe Media Ltd nor Village Travel Cheam can accept any responsibility for any loss or inconvenience to any person as a result of information contained above.