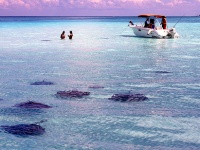 Cayman Islands Travel Guide
Renowned for beautiful beaches, excellent diving, and offshore banking, the Cayman Islands is made up of three islands situated between Cuba and Jamaica, only a 90-minute flight from Miami. Grand Cayman is the largest and most developed of the islands and the location of the capital, George Town. It is hard to believe that among the buildings that line George Town's harbour are more than 500 banks making up one of the world's largest offshore financial centres.
Discovered by Columbus in 1503 and explored by Sir Francis Drake in 1586, it was not until 1670 that the islands came under British rule. They remain a British territory, and the Queen's picture is still displayed proudly, but the US exerts a lot of influence over what it considers its backyard. For years the islands were a base for pirates who delighted in the remoteness of Grand Cayman. A bonus was the island's absolutely flat topography, which ensures that its profile is practically invisible against the horizon, making it the perfect hide-away for nefarious characters.
While some people are still looking for a safe place to hide their treasure, these days most visitors to the Cayman Islands are after a relaxing getaway. The Islands are a beach paradise with great swimming, snorkelling, scuba diving, fishing and other watersports.
Little Cayman and Cayman Brac are 70 miles (113km) northeast of Grand Cayman and are much smaller and even more relaxed than the main island. Visitors don't come to these islands in suits; the little business that goes on revolves around diving and catering for the world's best bone-fishing.
Travel Guide powered by Word Travels, copyright © 2019 Globe Media Ltd. By its very nature information in this travel guide is subject to change at short notice and travellers are urged to verify information on which they're relying with the relevant authorities. Neither Globe Media Ltd nor Village Travel Cheam can accept any responsibility for any loss or inconvenience to any person as a result of information contained above.