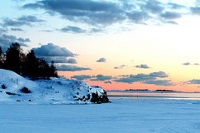 Finland Travel Guide
The sun never quite sets in Finland in summer time but it also never quite rises during the winter in this scenic country of lakes, islands, forests, pristine wilderness and super-modern technology. This is because Finland extends well into the Arctic Circle.
This land of contrasts is full of plenty to delight, amuse, inform and enchant the visitor, from its forbidding castles and onion-domed Slavic churches to the reindeer herds of the indigenous Sami people in Lapland in the north. The lively, modern capital city of Helsinki is packed with galleries, museums and cafés, but beyond, in the countryside, there are miles of pristine wilderness to explore in the rare clean, clear air. Around 65 percent of the country is covered in forest and there are almost 40 national parks.
You can come in from the cold to a sauna, as Finland invented them. In fact, the country has an unbelievable estimate of two million saunas, so you'll be hard-pressed to avoid them.
Despite its seemingly rugged environment, Finland is by no means a backward country. In fact, it is regarded as being one of the most high-tech societies in the world and was the first country in the world to make Internet access a legal right.
Dine on reindeer steaks, visit Santa Claus in his northern Arctic home, ski or dog sled across miles of virgin snow, or tap your toes at one of the numerous music and folk festivals held throughout the year. It is not surprising that Finland has been described as one of the most underrated tourist destination in Europe.
Travel Guide powered by Word Travels, copyright © 2019 Globe Media Ltd. By its very nature information in this travel guide is subject to change at short notice and travellers are urged to verify information on which they're relying with the relevant authorities. Neither Globe Media Ltd nor Village Travel Cheam can accept any responsibility for any loss or inconvenience to any person as a result of information contained above.