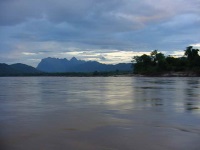 Laos Travel Guide
Known since ancient times as Lan Xang (Land of the Million Elephants), Laos offers the modern world a glimpse of old Indochina. Visitors will encounter a country that is less developed than its neighbours China, Thailand and Vietnam, and perhaps more reserved than any other stop in the region. They will also find an intoxicating mix of natural beauty, shy hospitality, original Buddhist culture and French influences.
Laos' lifeline is the Mekong River, which flows the length of the mountainous, landlocked country and provides water for agricultural lands. It's also a major means of transportation. The unassuming capital, Vientiane, sits on its banks, giving travellers a comfortable introduction to the Laos' charms. However, most visitors would regard Luang Prabang as the destination's highlight. Among other things, they delight in the district's architectural blend of whitewashed houses and splendid golden temples.
Regarding its history, Laos has suffered French colonisation, internal conflicts and assertive communism, all of which isolated it from the outside world. Today, visitors can enjoy the country's old-fashioned ways. Tourists willing to brave the lack of infrastructure will discover charming towns and rural villages, smiling, endearing people, splendid scenery, and a slow, relaxed pace of life.
Travel Guide powered by Word Travels, copyright © 2019 Globe Media Ltd. By its very nature information in this travel guide is subject to change at short notice and travellers are urged to verify information on which they're relying with the relevant authorities. Neither Globe Media Ltd nor Village Travel Cheam can accept any responsibility for any loss or inconvenience to any person as a result of information contained above.