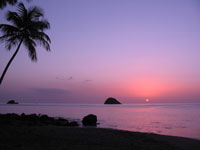 Martinique Travel Guide
Nestled in the heart of the Caribbean and an overseas region of France, Martinique is one of the many islands that make up the Lesser Antilles island group, affectionately referred to as the 'Breezy Islands'.
With such a rich and diverse history, culture lovers will enjoy the many historical sites including La Pagerie, where Napoléon's Empress Joséphine was born in 1763, Diamond Rock, a 600-foot (182m) pinnacle in the sea, and St-Pierre, a once booming town destroyed by a volcanic eruption in 1902. St-Pierre was Martinique's principal city until Mount Pelée volcano erupted, wiping out the city and its 30,000 people in just three minutes.
Featuring two beautiful peaks, Carbet and Mount Pelée, the active volcano that is the highest mountain on the island, at 4,586 feet (1,398 metres), rises above Martinique's legendary tropical rainforest. The unspoiled beauty of this area will inspire visions of paradise that echo the Caribbean before mass-market tourism began intractably changing the landscape of many beautiful islands.
There is something for just about everybody on the beautiful island of Martinique, with plenty of water sports such as kitesurfing, yachting, diving, surfing and sailing as well as mountain biking, hiking, and rock jumping. For the less adventurous, warm sunny days can be spent lazing on the sandy, white, palm-fringed beaches, many of which are truly lovely. Salines Beach at the southernmost tip of Martinique is straight out of a postcard.
Travel Guide powered by Word Travels, copyright © 2019 Globe Media Ltd. By its very nature information in this travel guide is subject to change at short notice and travellers are urged to verify information on which they're relying with the relevant authorities. Neither Globe Media Ltd nor Village Travel Cheam can accept any responsibility for any loss or inconvenience to any person as a result of information contained above.