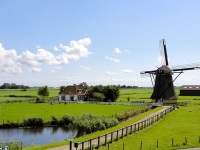 Netherlands Travel Guide
This country of tulips, windmills and bicycles stretches out over a predominantly flat landscape of land reclaimed from the sea. Sophisticated urban centres and sleepy rural towns are contained within the expansive vistas broken here and there by canals, castle walls and dikes. One of Europe's most densely populated regions is located within an area of the Netherlands called the Randstad. This urban hub radiates in a circle from Amsterdam and includes The Hague, Rotterdam and Utrecht, as well as the smaller towns of Haarlem, Leiden and Delft. The metropolitan centres of the Netherlands buzz with the activity of seasonal festivals, cultural activities, vibrant art scenes and excellent pubs and restaurants.
The rich cultural heritage that flavours much of Dutch life can be traced back through the centuries. During the 1600s the Netherlands dominated the world both economically and culturally, with the Dutch East India Company establishing trading links with the East and West Indies and bringing back an abundance of merchandise and cultural influences. The Golden Age reached its zenith in the artworks of the Dutch Masters: Rembrandt, Frans Hals and Jan Vermeer. Today, their paintings hang from the walls of the country's numerous world-class museums and galleries.
Most people travelling to the Netherlands head for the unique experience of its capital city, Amsterdam. The other parts are largely unaffected by tourism, particularly the areas outside the Randstad. The southern parts of the country are transformed by undulating landscapes of shifting sands and heath moors, best experienced within the Hoge Veluwe National Park. Further south, tucked between the German and Belgian borders, lies the historical city of Maastricht.
Since the collapse of Napoleon's empire in 1814, the Netherlands has taken a neutral stance throughout most of the world's conflicts, including the First World War in which it took no part. In spite of this independent stance it still suffered severely in World War II during the Nazi invasion of 1940. Its neutral political position, combined with its tradition of liberalism and tolerance, has made the Netherlands the logical choice for the establishment of the International Court of Justice, which is situated in The Hague.
Travel Guide powered by Word Travels, copyright © 2019 Globe Media Ltd. By its very nature information in this travel guide is subject to change at short notice and travellers are urged to verify information on which they're relying with the relevant authorities. Neither Globe Media Ltd nor Village Travel Cheam can accept any responsibility for any loss or inconvenience to any person as a result of information contained above.