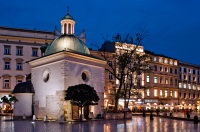 Poland Travel Guide
Travellers to Poland will be captivated and moved by its remarkable history of heroic resilience and tragedy, and delight in the charming character of its cities and in the natural beauty of the countryside. From romantic tales of medieval knights, battles, kings and splendid castles, to the horrors and destruction of World War II, from its determined stand against communism to today's modern outlook and booming economy, Poland abounds with evidence of both historical turbulence and a bright future to come.
Poland was the country most devastated by World War II in Eastern Europe, losing about a quarter of its population and almost its entire Jewish community. The aftermath of the war greatly influenced the character of the country. Former Jewish centres in the cities and the stark concentration camps where the Nazis carried out their extermination atrocities remain as the most stirring reminders of the nation's tragedies. Cities destroyed by the war had to be rebuilt from scratch and the many meticulously restored buildings and historic old towns are testimony to the pride and determination of a strong and durable nation.
Warsaw, the capital, was almost totally destroyed by the war and now presents an unusual mix of beautifully restored historic buildings, communist-era concrete structures, and modern fashion and consumerism. The maritime city of Gdañsk, home to the historic garrison at Westerplatte and the legendary Lenin shipyards, was the stage for both the beginning of the Second World War and the disintegration of Eastern European communism. But it is Krakow, the ancient royal capital, that draws the crowds, rivalling the elegance of cities like Prague and Vienna. Having largely escaped the destruction of the war it retains its charming medieval character: the Royal Castle, the grand Market Square, the old Jewish quarter and the nearby Nazi death camps of Auschwitz are all steeped in historical importance.
The unspoilt Baltic coastline and the splendour of the rugged mountain ranges of the Tatras will impress outdoor enthusiasts, with a variety of activities and scenery to provide a peaceful and relaxing break from the intensity of the country's history. Along with the legendary hospitality of Polish people, a sense of nationhood to which the Catholic Church is fundamental, and a strong musical and cultural sense of identity, its tourist infrastructure is flourishing and the country is experiencing a remarkable increase in the number of visitors to its shores.
Travel Guide powered by Word Travels, copyright © 2019 Globe Media Ltd. By its very nature information in this travel guide is subject to change at short notice and travellers are urged to verify information on which they're relying with the relevant authorities. Neither Globe Media Ltd nor Village Travel Cheam can accept any responsibility for any loss or inconvenience to any person as a result of information contained above.