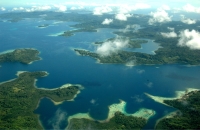 Solomon Islands Travel Guide
Blessed with sun-soaked, coconut palm-fringed beaches and crystalline waters, the remote and unspoiled archipelago of nearly a thousand islands and atolls of the Solomon Islands is becoming an increasingly popular eco-tourism destination, offering world-class snorkeling, scuba diving, fishing, and surfing.
Much of the country's economy is still based on subsistence fishing and, although the Solomon Islands deserves to be a world beater of a tourist destination. An unfortunate lack of infrastructure and amenities has kept the growth of the country's tourism sector in check. This is great news for those seeking a beach holiday in a tropical paradise but who don't want to go anywhere where the effects of mass tourism are already widespread.
Sprinkled across the South Pacific, these Melanesian islands have seen a lot of history. It is believed that Papuan-speaking settlers arrived around 30,000 BC, while the first European to discover these gems was Álvaro de Mendaña de Neira, a Spanish navigator who set out from Peru in 1893. During WWII, the Solomon Islands saw some fierce battles between the Japanese and the Allied forces, including the Battle of Guadalcanal, and the shipwreck graveyards beneath the turquoise waters bear testament to this.
Explore some of the world's most diverse aquamarine life, while landlubbers can marvel at the islands' unique animals and plants, majestic volcanoes, and the world's rarest orchid. History buffs will love the WWII historical sites such as Iron Bottom Sound, where the remnants of sunken vessels lie in their watery graves. Popular islands and groups within the archipelago include Guadalcanal, Santa Cruz, and Choiseul. The capital city of Honiara on Guadalcanal has a number of interesting historical sites and a bustling Central Market for souvenir shopping, along with several restaurants and nightclubs.
Travel Guide powered by Word Travels, copyright © 2019 Globe Media Ltd. By its very nature information in this travel guide is subject to change at short notice and travellers are urged to verify information on which they're relying with the relevant authorities. Neither Globe Media Ltd nor Village Travel Cheam can accept any responsibility for any loss or inconvenience to any person as a result of information contained above.