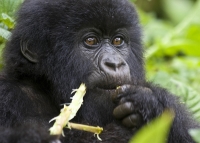 Uganda Travel Guide
A small, landlocked country straddling the equator between Kenya and the DRC in Eastern Africa, Uganda is one of the continent's most beautiful countries, boasting a wide variety of scenery, culture and wildlife despite its modest size.
Its reputation as 'Africa's friendliest country' is not only accredited to its likeable people, but also to its redevelopment as an eco-friendly environment, with the enlightened management of 10 national parks, and its introduction of eco-tourism projects, adventure sports and unique gorilla-trekking opportunities that have put the country back on the tourist circuit. After years of misrule, hardship and war under Idi Amin, Uganda is once again receiving positive global interest due to its forward-thinking policies and wealth of tourist attractions.
Uganda's variety of landscapes is as astounding as its biodiversity. Forested crater lakes on the floor of the Rift Valley give way to typical East African savannah as well as tropical rainforest. The glacial peaks of the highest mountain range in Africa, the 'Mountains of the Moon' or Rwenzori Mountains that mark the country's western border, as well as a number of extinct volcanoes make for world-class hiking and mountaineering. There are several large bodies of water, including the massive Lake Victoria, which it shares with Tanzania and Kenya, and the myriad islands dotting Lake Victoria and Lake Bunyoni are ideal birdwatching destinations. Lake Victoria is also the source of the Nile, the longest river in the world, which passes through the impressive Murchison Falls and creates some of the most exciting white water rafting on earth.
What also makes Uganda a unique safari destination is its remarkable concentration of primates, which is the highest on earth, and people are drawn from around the world to track chimpanzees and to experience the face to face encounter of a lifetime: the massive mountain gorilla.
Travel Guide powered by Word Travels, copyright © 2014 Globe Media Ltd. By its very nature information in this travel guide is subject to change at short notice and travellers are urged to verify information on which they're relying with the relevant authorities. Neither Globe Media Ltd nor Village Travel Cheam can accept any responsibility for any loss or inconvenience to any person as a result of information contained above.