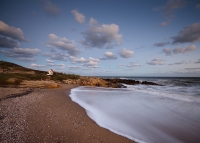 Uruguay Travel Guide
Being one of the smallest South American countries, the Republic of Uruguay is largely overshadowed on the tourism map by its more popular and bigger neighbours, Brazil and Argentina. However, this largely flat country of rolling plains, hilly meadows and rivers, bordered by hundreds of miles of fine sandy Atlantic beaches, sports some fascinating towns (including its atmospheric capital, Montevideo), unspoilt seaside resorts, and some of the cheapest and most delectable steaks you will find anywhere.
Highlights of Uruguay for travellers include the charming cobbled old town of Colonia del Sacramento, a UNESCO World Heritage Site hung all over with flowering jasmine; the country's cattle ranches, populated with daring gauchos(cowboys); and the bright, brash international beach resort of Punta del Este. Uruguay is a playground versatile enough to delight any traveller.
Uruguay was first colonised by Spain during the 16th and 17th centuries, having been spared the worst of the conquest of the Americas by the fact that the country has no gold or silver. The Spanish introduced cattle farming, and beef exports today remain the mainstay of the economy, along with a fast-growing tourism industry.
Politically the country is stable, economically it is fairly prosperous, and it has one of the lowest crime rates in South America. Add to this its friendly and welcoming people, and the wonderful, sultry summer sunshine, and most people will find that Uruguay is one of the world's most accommodating destinations.
Travel Guide powered by Word Travels, copyright © 2014 Globe Media Ltd. By its very nature information in this travel guide is subject to change at short notice and travellers are urged to verify information on which they're relying with the relevant authorities. Neither Globe Media Ltd nor Village Travel Cheam can accept any responsibility for any loss or inconvenience to any person as a result of information contained above.